Palm Beach
is famous for its legendary resorts, historic landmarks, and exquisitely decorated estate properties. As a location that retains its small-town character, the area's appeal is timeless.
Jack Elkin's
unprecedented local knowledge and reputation for luxury real estate excellence led him to assist clients in finding the perfect buyers for some of the locale's most beautiful estates.
4 El Bravo Way
Located at
4 El Bravo Way
in Palm Beach, the gorgeous property is spectacular. Beginning on the outside, this property sets a tone of regal elegance that harkens back to Spanish colonial days. Built in 1925, the residence has a clay tiled roof and a hacienda-like structure, adjoined by a five-story tower complete with a turret. Unique and eye-catching defensive battlement architecture edges around the top of the main tower, in royal contrast with the adjacent buildings.
This section of the house is also the site of a fantastic rooftop observatory and a bar that hosts stunning ocean-to-lake views.


The outside glows in the evening with gardens designed by Mario Nevera and lit by Greg Yale. Fully mature trees surround the property, and a one-story hedge sits near the estate's entrance, offering concealed privacy and security.


A pool with modernized features and new equipment sits on the grounds for a refreshing dip. This feature is accompanied by a deluxe pool cabana complete with two changing rooms with full baths. There is also a covered outdoor entertainment space and a convenient wet bar.


Inside, the gracious living area is sprawling and exquisite. It covers more than 11,800 square feet with a full nine bathrooms in the home, as well as 4-half bathrooms and 6-bedrooms.


In the main tower, there are two generous master bedrooms. One impressively spans the entire third floor.


Other unforgettable features include a library, cypress ceiling beams, stenciling, original blue and white Cuban tile floors, and updated hurricane impact doors and windows. This property was a treasure to encounter and work with.
1370 S Ocean Boulevard
Entering
1370 S Ocean Boulevard
leads you into a marvelous Manalapan resort-style compound situated on 300 feet of coveted oceanfront property. When searching for homes for sale in Palm Beach County, this property stuns.
Outside, a marble driveway introduces the property. The home offers access to unparalleled oceanfront views and much more. A resort-style grotto pool is accompanied by a waterfall, a leisure-filled swim-up bar, slide, and pool cabana. A secluded tennis court provides ample space for exercise and entertaining. A private dock on the property can accommodate a 150-foot yacht, in addition to other boats and watercraft.


There are two main buildings on the property: the main house and an adjacent guest house. The main house has three oceanfront master suites with accompanying bathrooms and gorgeous walk-in closets and three large guest suites with full bathrooms and a lower-level guest suite. The guest house has one bedroom. Dramatic 30-foot floor-to-ceiling windows impress in the living and family rooms.


This home's other standout features include a billiard room, a game room, two elevators, a state-of-the-art security system, and smart home controls for adjusting the lights, pool, and music to your exact preferences. Finally, an entire spa wing is ready to pamper with a luxurious steam room, sauna, massage and exercise rooms, and jacuzzi.
165 Seaspray Avenue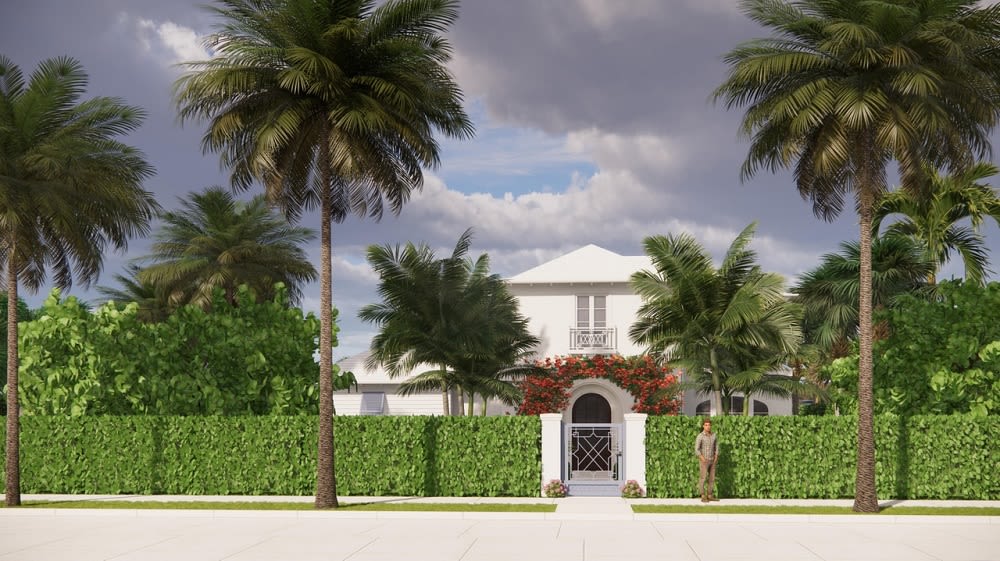 This home, located at
165 Seaspray Avenue
, sets the scene for new Palm Beach Florida real estate development. Ready in April 2022, this approved ocean block construction is perfect for discerning buyers. Covering 4,457 square feet of living space on 0.28 acres, the home hosts six bedrooms, six full bathrooms, and one half-bath. A chef's kitchen comes with abundant storage and luxury appliances. An air-conditioned two-car garage ensures prized vehicles are kept in an optimal environment for storage.
Designed by the internationally recognized, award-winning architectural firm,
Harrison Design
, this home has it all with a pool sun shelf, spa, and beautiful surrounding grounds. Concrete tile roofing, a walk-in closet, and beach access by easement make an ideal package.
221 Oleander Avenue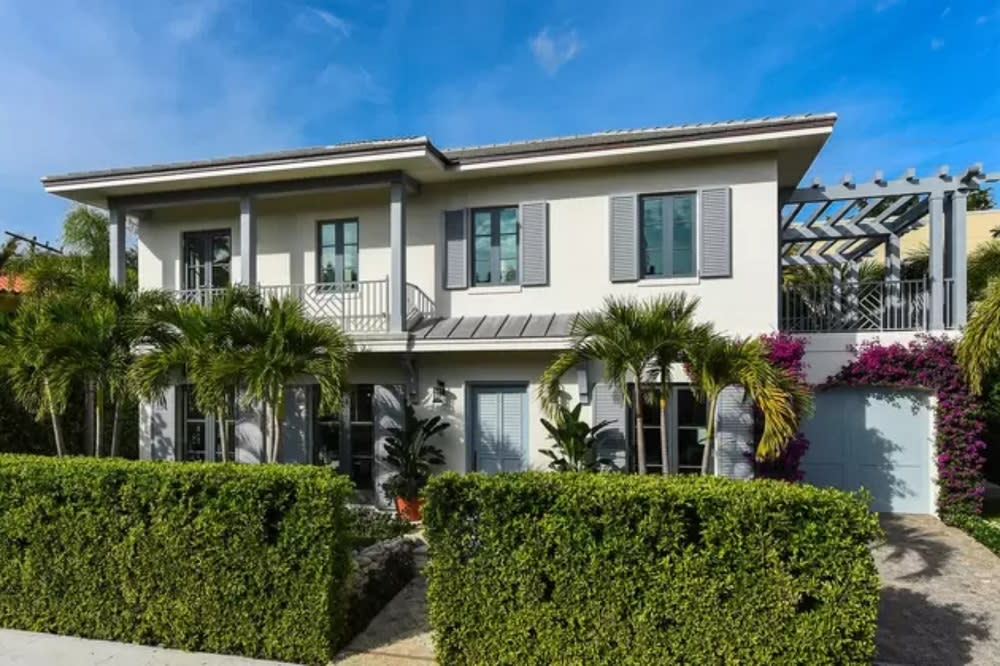 Located just one block from Palm Beach's ocean and sandy beach,
221 Oleander Avenue
has the amenities sought by home buyers looking for a warm getaway with little fuss. Covering a conservative 3,180 square feet, this highly desirable home boasts high-end finishes and fixtures with beautiful style. Paneled shutters adorn the windows on the outside of the home for a colonial look. Solid mahogany painted front door opens to reveal an open concept family room/kitchen/dining room presenting ample room to relax and share time. An island anchors the middle of the kitchen with a gorgeous marble waterfall countertop and bar stool seating.
Contemporary and timeless, this home has four bedrooms and four bathrooms.


Features like bookshelves under the main staircase for increased storage, large and bright windows and balconies off two upstairs bedrooms add functionality and beauty. Two ample walk-in closets sit off the primary suite, and next to this is a generous master bath. A stunning terrace leads off the master bath, complete with a hot tub.
418 N Ocean Boulevard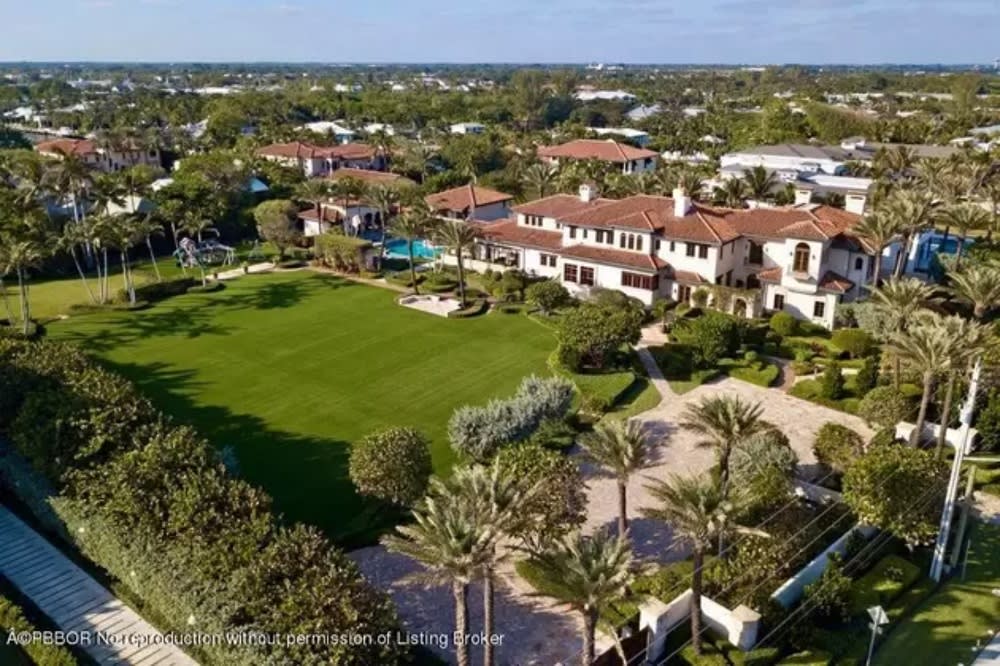 Located in the Delray Beach area of Palm Beach County,
418 N Ocean Boulevard
is an exquisite property. This hacienda-style estate with a clay tile roof and Spanish colonial design spread out over 2.77 acres, with a stunning 12,828 square feet of living space in the main house. Constructed in 2008, this home just steps away from the beach, with gorgeous swaying palms adorning its entrance.
As one of the largest remaining estates in the Delray beach region, the property seamlessly integrates Old World features with contemporary grandeur. Finished throughout with antiqued European oak, mahogany, limestone, coral, Pecky cypress, and Alhambra tile, this is a stunning home.


A stone walkway leads up the home's main entrance and once inside, you are greeted with an ornate wood-paneled foyer and elegant marble flooring. Walking through the estate brings you through arched doorways, rooms filled with wood-beamed ceilings, and warm interiors that combine a rustic glow with elegance and tradition.


The den and kitchen areas bring distinguished comfort and warmth with brick barrel-vaulted ceilings and ornate wood panel detailing. Two islands anchor a large kitchen, and modern chandelier lighting appears in many rooms.


On the lower entertainment level, you will find a serpentine wall in the hallway leading to a large mirrored home gym, an ample playroom, a wine room, and an elegant personal spa area.


Sprawling grounds, immense lawn space, and gorgeous palms surround a large pool outside. Outdoor gathering spaces allow for socializing in a beautiful, temperate climate. Vined archways sit across from the pool, and a full outdoor kitchen — complete with a large barbecue — adorns one side of the home. A bocce ball court provides space for play. Gorgeous garden lighting makes this an enchanted abode in the evening.


This exquisite property is just steps from the beach with kayaking, sailing, and sunbathing. Delray's vibrant nightlife is also close by, complete with boutique shops, high-end restaurants, and quaint cafes.
344 N Ocean Boulevard
Second to none,
344 N Ocean Boulevard
is home to an incredible oceanfront Delray Beach property. Designed by Randall Stofft Architects in tandem with Stofft Ikasu Interiors, this renovated and upgraded estate is not to be missed.
With six bedrooms and seven full bathrooms and located on 0.64 acres of land, this home has well over 11,400 square feet of modern, vast, bright living space. Inside, this three-story home has six opulent bedrooms, seven full bathrooms, and two half bathrooms.


Large floor-to-ceiling windows on all sides bring the outdoors in with regal elegance. A large marble fireplace graces the main living room, and the kitchen comes fully equipped with two long marble islands offering room for storage. A spa room and wine cellar are located on the lower level.


Gorgeous sliding windows open up to a wonderful second-floor covered balcony with a full view of the ocean and sunsets over the Atlantic. Balconies are situated around the property and are located in the bedrooms and bathrooms, as well as communal living spaces. A spacious second-floor lounge area, complete with an outdoor fireplace, is stunning and perfect for entertaining under the evening stars.


Outside, a completely covered outdoor kitchen sits adjacent to the beautifully t-shaped pool. With five garages, opulent columns, waving palms, and refreshing landscaping, this estate makes a lasting statement. Just steps from white sandy beaches, it's a true slice of paradise.


For elegant luxury Palm Beach properties close to the beach, in a world-renowned area that comes with a high quality of life and a small-town feel – yet bustling nightlife, this is an ideal location.
Are you ready to buy Palm Beach County real estate?