One of the great things about owning Palm Beach real estate is quick and easy access to its many waterways, including the Intracoastal Waterway and the Atlantic Ocean. Many waterfront homes in Palm Beach and adjoining upscale communities, such as Manalapan and Hypoluxo Island, have private docks where owners keep their yachts and sailboats.
There are
many popular weekend destinations
from Palm Beach, including Peanut Island and Jupiter, and points farther away like Fort Lauderdale, Miami, and the gorgeous and unique Keys. If you are looking for some dinner while floating along, you'll find numerous restaurants and bars along the waterways that are fun to visit by boat. There are plenty of marinas and yacht clubs with moorage facilities for people who don't have a private dock.
Real estate market
If the yachting lifestyle and great weather intrigue you, you should look at purchasing Palm Beach Florida real estate. Homes are pricey, but living in Palm Beach gives residents one of the most exclusive addresses in the world. Over the past couple of years, the median price of Palm Beach homes for sale has continuously risen. As such, this luxury community remains a seller's market, meaning there are fewer homes available than there are buyers looking for them.
To ensure you're getting the best deal in a tight market, hire a licensed real estate agent who has been working in the market for several years, knows the ins and outs of pricing trends, and can show you what suitable properties are available. Once you've gotten into a home, you can begin plotting weekend yachting destinations from Palm Beach.
Peanut Island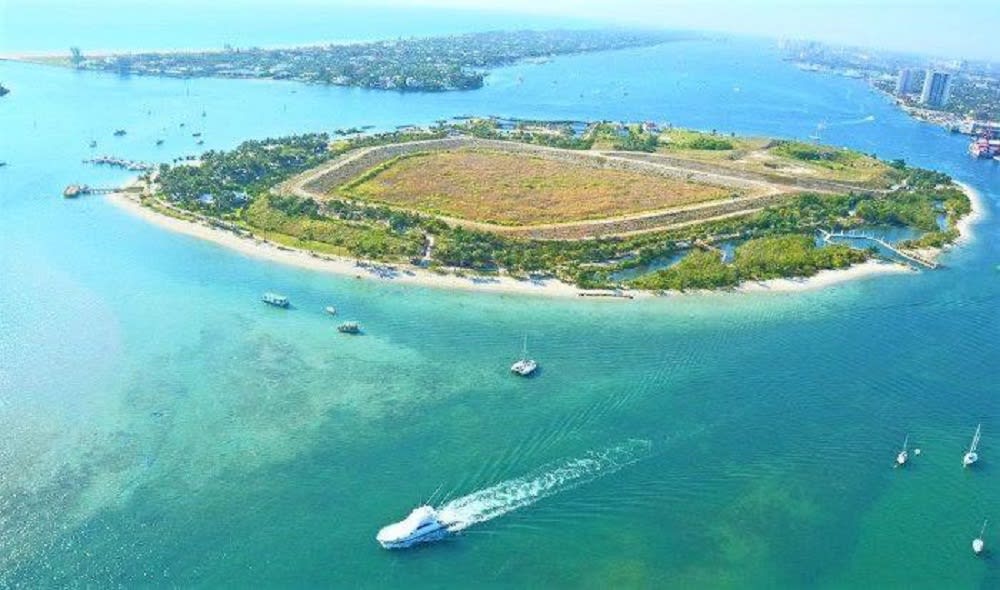 Photo Courtesy of Peanut Island
If you've just bought Palm Beach real estate for sale and want to ease into the boating scene, there's no better place to start than making the short trip to
Peanut Island
, a large artificial island right in the middle of the Port of Palm Beach. It's near the Palm Beach Inlet, which connects the Intracoastal Waterway to the Atlantic Ocean. You can steer your yacht into one of the docks located around the island or drop anchor off the island's east side. The island has gorgeous beaches for swimming and snorkeling, and there's a large campground where you can pitch a tent and enjoy a few nights underneath the stars.
An unexpected delight of Peanut Island is discovering that it has a
bomb shelter
that was secretly built on orders of President John F. Kennedy during the Cuban Missile Crisis. While it's temporarily closed, it has been open in the past for tours.
Clematis Street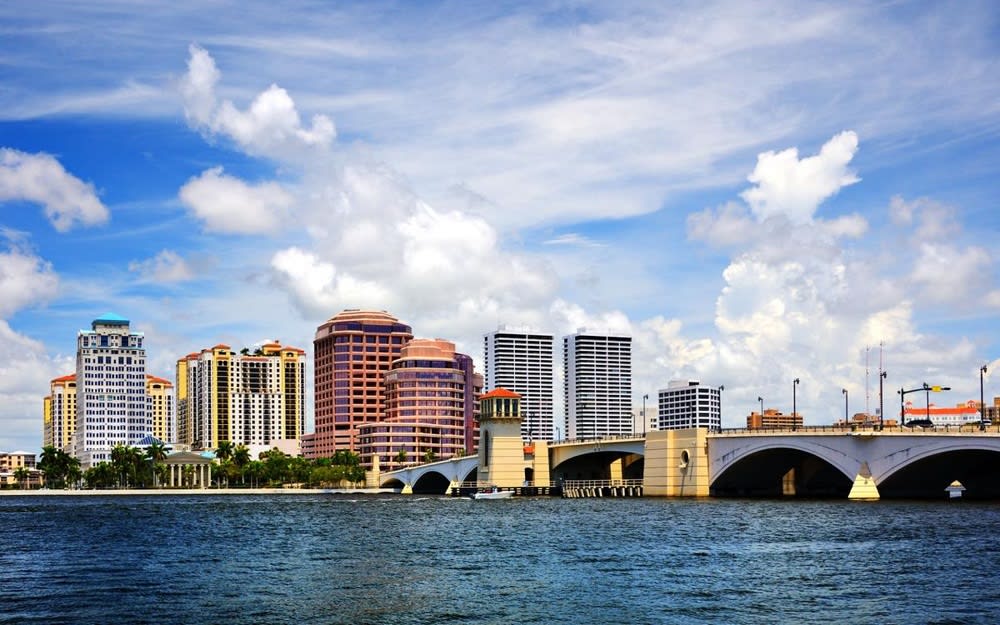 Photo courtesy of Clematis Street
A fun weekend itinerary is cruising on the ocean or along the Intracoastal Waterway, then steering into
Palm Harbor Marina
and heading to
Clematis Street
. This majestic marina can host yachts up to 250 feet long. As soon as you dock, it's just a short walk to Clematis Street, the stately historical center of West Palm Beach. Clematis Street has everything for an action-packed weekend, including excellent restaurants, pulsating nightclubs, and all the latest shops and boutiques. If you start your weekend early, head over on Thursday nights for Clematis By Night, a weekly celebration that includes food, drink, and some great live music.
Jupiter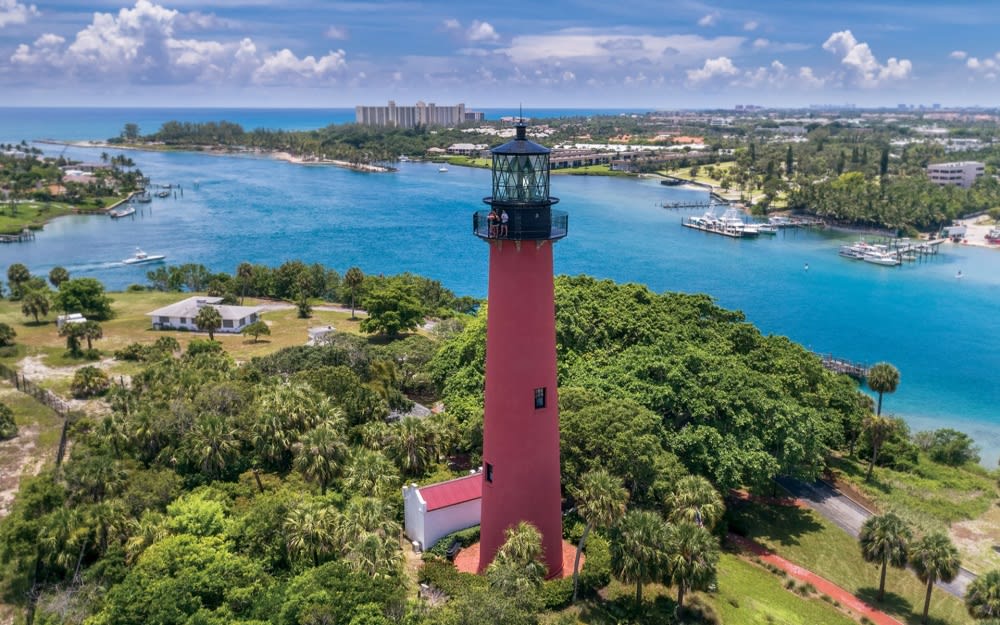 Photo Courtesy of Cultural Council for Palm Beach County
Jupiter is a gorgeous town of about 65,000, located 20 miles north of Palm Beach, making it a great weekend destination for residents of luxury properties in Palm Beach. There are many beautiful things to do after arriving by boat in Jupiter.
Harbourside Place, Jupiter
You can start your yacht trip to Jupiter by pulling into the Harbourside Place Marina for access to some of the best dining and shopping in the area. The marina has 31 boat slips up for grabs from 8 a.m. to 12 a.m., allowing boaters to make a day of it at the famous
Harbourside Place
. Among the great places to eat are
The Woods Jupiter
, Tiger Woods' signature restaurant, and
Tommy Bahama
. At the end of a busy day, live music or special events are almost always at
The Amphitheater Harbourside
.
Jupiter Sandbar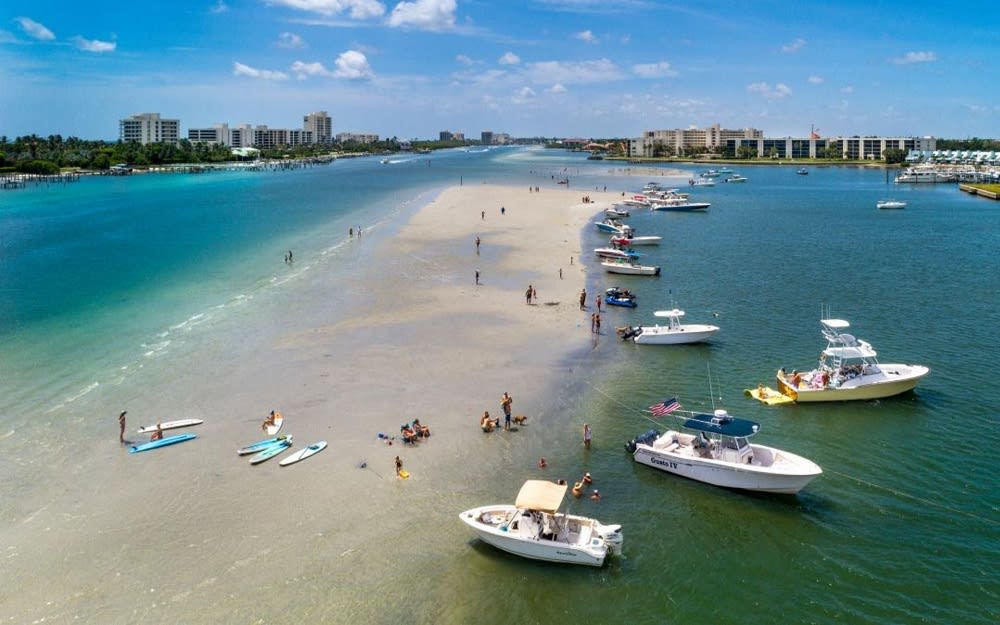 Photo Courtesy of The Palm Beaches Florida
Another super fun destination for yachters who own Palm Beach County real estate is to head to the Jupiter Sandbar on the Loxahatchee River, which helps give the area its incredible scenery. The sandbar is easy to get to because it's near the Intracoastal Waterway and the Jupiter Inlet and has excellent views of the Jupiter Lighthouse. Boaters head to the sandbar to cool off on hot days, and the sandbar is large enough to allow hundreds of people to enjoy the pleasant water, especially at low tide. Boaters are advised that the east end of the sandbar tends to attract people in the mood to party while the west end is better for families. High tide is an excellent time to do some snorkeling by the mangroves on the east side.
Square Grouper
No weekend yacht excursion by owners of Palm Beach mansions would be complete without a stop at a tiki bar. While in Jupiter, it makes sense to pull into the dock at the
Square Grouper
on the Loxahatchee River from the Jupiter Inlet and head inside for the kind of fun you can only find in South Florida. The Square Grouper has been described as the ultimate tiki bar, and what makes it stand out is that it was where Alan Jackson and Jimmy Buffett filmed the video for "
Five O'clock Somewhere
." Relive the fun of that video while enjoying great drinks and fare. The Square Grouper also has a great view of the historic Jupiter Lighthouse.
DuBois Park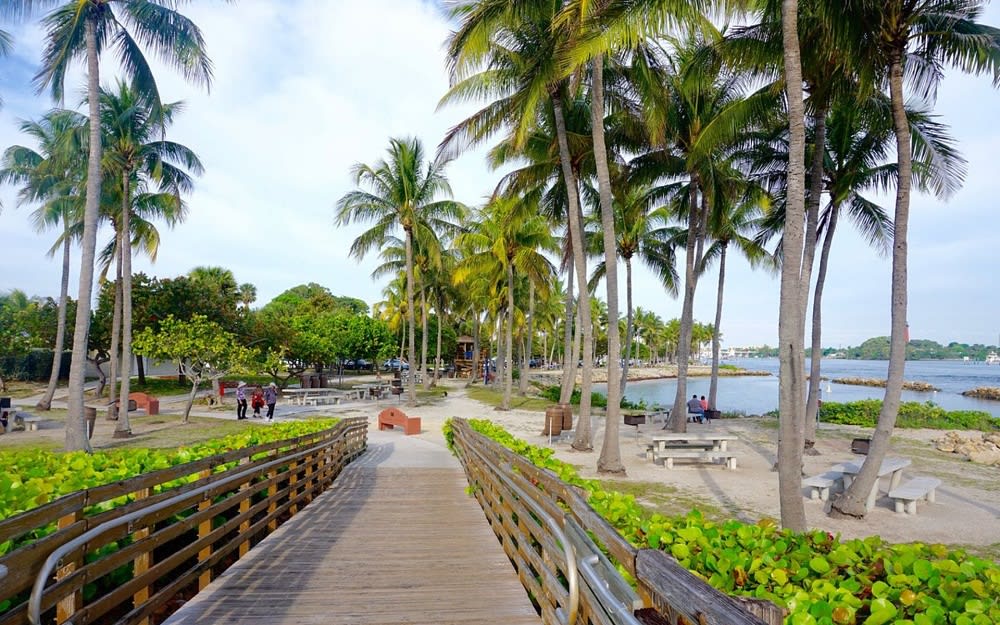 Photo Courtesy of Tripadvisor
Families living in Palm Beach Florida real estate love taking their children out on the boat for a weekend excursion to the popular
DuBois Park
, an excellent place for families to cool off and hang out where the Jupiter Inlet meets the Atlantic. There are 17 boat slips, and families can enjoy the lagoon for swimming and then have a picnic or barbecue to end the day.